Documents / Identification
Social Insurance Number (SIN)
Personal identification from the Government of Canada. You need to have a SIN to work in Canada. All adults in your family should apply for a SIN.
Forms are available:
at the Settlement Services Office
from the Service Canada Representative, Provincial Building, 317 River Road West, Arborg

available on alternate Thursdays from 10 am to 3 pm

online at www.servicecanada.gc.ca under forms search SIN.
The Service Canada Representative provides the fastest service. You can also mail in your application at the post office.
You will need to provide one of:
Permanent Resident Card (PR Card)
Canada Immigration Record and Visa (IMM 5292 PR or IMM 5509 and Visa)
Record of Landing (IMM 1000)
Visitor Record, Study Permit, Work Permit and Employment Authorization (IMM 1442)
Refugee Status Claim (IMM 1434)
Keep a copy of the application if you are looking for work. Wait 3 to 4 weeks to get your card.
Manitoba Health Card (Medicare)

This card is needed for the free basic health services provided to all permanent residents of Manitoba. Manitoba residents with proof of the intention to stay longer than 6 months can apply for a card. Adults 18 years or older need a card. Family members will all be on one card and each person will have their own Personal Identification Number (PIN).
Some costs are not covered such as dental care, eyeglasses, medications, and ambulance fees. Extra coverage is available at a cost -see Blue Cross in the Health section of this guide.
Forms must be signed by officials at your local town or municipal office.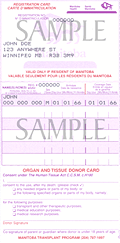 Forms are available at the following places:
Settlement Services Office
online at www.gov.mb.ca/health/mhsip/forms.html
Town of Arborg Office, 337 River Road West, Arborg, 376-2647
RM (Rural Municipality) of Bifrost, 329 River Road West, Arborg, 376-2391
Village of Riverton Office, 56 Laura Avenue, Riverton, 378-2281
RM (Rural Municipality) of Armstrong, Highway 17 and Railway Avenue, Inwood, 278-3377
in Winnipeg at:

Manitoba Health Services Commission

300 Carlton Street,Winnipeg,1-204-786-7101
Bring the Canada Customs form B4E (container list stamped at customs) and one of:
Manitoba Driver's License
Rental Contract of one year
Letter from the school verifying your child's attendance
Verification of Child Tax Benefits Payments
Wait 3 to 6 weeks to get your card.
Manitoba Driver's License

The driver's license has 2 parts. An international driver's license is valid for 3 months after your arrival in Manitoba. You must have a new license before those 3 months are over. You need to carry your driver's license with you at all times when you are driving.
You need to register with MPI (Manitoba Public Insurance) and get a license at
Sigvaldason Insurance, 315 Main Street, Arborg, 376-2679
Norstar Insurance, 349 Main Street, Arborg, 376-5474
Sigvaldason Insurance, 33 Main Street, Riverton, 378-5172
Bring your old license and other identification with your address on it.
If a test is needed, you can take it in English, French, German or another language.
You can buy a Driver's Manual to study from the insurance office.
If needed, you can take an oral test or bring an interpreter.
There are 2 tests to take: a written test and then a road test.
To book an appointment, phone: 1-800-782-0777.
The driving tests are on Wednesdays at:
Arborg Provincial Building, 317 River Road West (test given once or twice a month)
Riverton Recreation Facility, 175 Riverton Avenue (test given once every two months)
In Manitoba, you pay each year for your driver insurance. If you cause an accident, the cost may go up. You must change the address on your license when you move.
Other Documents

Your national identification documents (birth certificate, diplomas, school and work reports) may need to be translated. Settlement Services can help find someone to translate your documents and find a Notary Public or Commissioner of Oaths to certify your documents.